Buttons & Logos
How to Properly Attribute in Your App
It's always nice to give people credit for their work. If you're building an app that uses data provided by SoundCloud and our community it's best to give attribution. It's a way of saying thanks and encourages people to keep creating awesome things.
Easiest Way to Attribute SoundCloud Sounds and Creators:
A common use of the SoundCloud API is to showcase sounds created by our community. The best way to properly attribute is to use our widgets. Learn more about how to control and modify our widget.
Attributing in Custom Players:
If for some reason our widget doesn't fit the goals of your product we recommend you attribute in a similar fashion to our widget: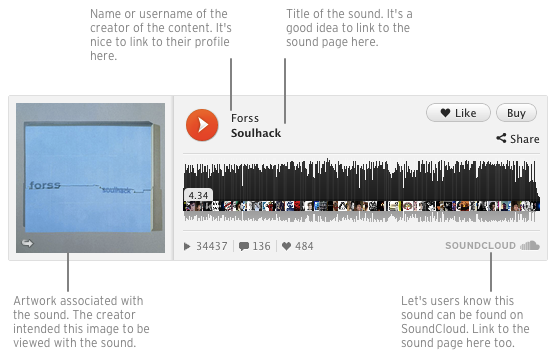 When using someone's work, give them similar representation and link back to where the creator and original work can be found.
In some rare use cases it's tricky to attribute exactly in this way. For those cases we ask that you:
Credit the uploader as the creator of the sound
Credit SoundCloud as the source by including one of the logos below
Link to the SoundCloud URL containing the work
if the sound is private link to the profile of the creator
Assets for Attributing SoundCloud Users and Data:
If you are using SoundCloud's data in your app or site, we ask that you place these logos where the data is being used/shown. The logo must link back to the data source (eg. SoundCloud profile, sound, or set page):
| Light Background | Dark Background |
| --- | --- |
| | |
| | |
If a substantial portion of your app or site's functionality is built on top of the SoundCloud API such that removing the SoundCloud API from your app would render it significantly less useful or functional you should also include one of these logos on screens where the SoundCloud API is being used in your app/site. The logo should link back to soundcloud.com.
| Light Background | Dark Background |
| --- | --- |
| | |
| | |
Looking for our social icons? go here: https://soundcloud.com/pages/widgets.
If your app relies on integration with SoundCloud, you can simplify your registration and sign in process by using a Connect with SoundCloud button. This lets your user know that they can register for your app with one click using their SoundCloud account. It also grants your app access to their account and gives you the ability to upload tracks, create sets and otherwise act on their behalf.