On Saturday, I joined over a hundred other hackers at HackTO. This has become a regular event in the Toronto tech scene, thanks to excellent organizing by Leila Boujnane and Corey Reid. SoundCloud joined several other API providers, including Atomic Reach, Context.IO, FreshBooks, Shopify, TinEye, Twilio, Trendspottr, WordPress and YellowAPI.
The idea behind the event is simple: find a team (or go solo) and build an app using one or more of the APIs presented by sponsors. All apps have to be demoable by 5pm at which time you pitch to the judges who select the 1st, 2nd and 3rd place winners.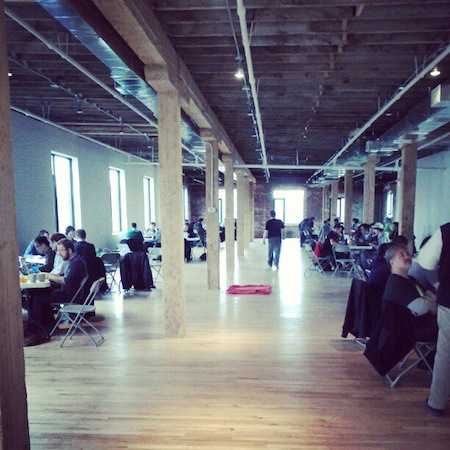 For a one day hackathon, there were an impressive number of hacks demoed — 23 in total. Nearly half used SoundCloud, which was awesome. One thing that struck me was how much sound enhanced the demo process. Having an app that produces audio content makes for a much more engaging demonstration. It's hard to ignore a demo when speakers are blaring.
Here's a few of my favourites from the event:
HackPad
Built by Alan Hietala, HackPad allows you to create loops and triggers using the SoundCloud API. Alan gave an impressive demo that had the crowd moving (not an easy task after a long day of hacking!). He's got a write up with an overview of the app and a link to Github.
80s Joke Line
This Twilio and SoundCloud mashup lets users call up a Twilio provisioned number and record or listen to jokes. Jokes are all stored and served by SoundCloud. Ram, Max, Houssam and Sam did a great job demoing. Protip: If your app is based on jokes, your demo will be pretty funny! Check out the app to post your own jokes and listen to others.
Podcasting Robots
Feeling too lazy to read a blog? That's cool, Mo built this WordPress, SoundCloud and Twilio mashup so you can have robots read it to you. Despite the fun angle, this kind of thing could be a great accessibility app. Could really use some different voices though :-)
It was great to see so many people finish their app in just under 6 hours. Thanks to everyone who participated and special thanks to FreshBooks for hosting!