Late last year, six women crowded in to a Mitte cafe booth and listened to Berlin Geekettes founder Jess Erickson share her idea: Berlin's first all-women hackathon. With SoundCloud's Amelie Anglade the then newly-appointed the Berlin Geekettes Tech Ambassador, we agreed that it was a great idea to produce the hackathon as a partnership between the Geekettes and the women developers of SoundCloud.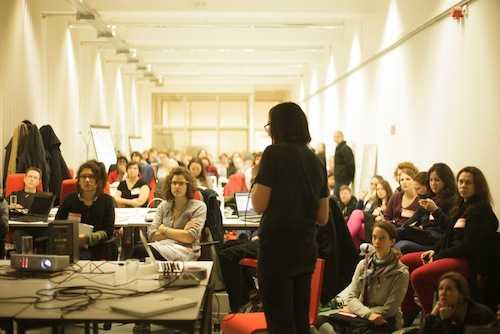 Fast forward to the first weekend of March, when the vision became reality: after 24 hours of hacking, 80 women demoed 29 projects across a range of different platforms, from a belt transformed into a game controller to an app aimed to help toddlers learn to do everyday tasks.
Hackathon with a twist
This hackathon invited all types of projects: web, iOS, Android, hardware, and so on. And the hackers rose to the challenge. One women even turned her belt into a game controller, and demo'd it by standing on a chair and playing Tetris by tapping her fingers on what she dubbed The WonderBelt.
Achievement of a strong collaborative energy was an important part of what we set out to do. With over 120 applications, we accepted as many women as we could possibly fit into the generous space provided free of charge by Deutsche Telekom, complete with internet infrastructure and an onsite technician. In addition to API representatives, we asked attendees to identify themselves as "domain experts" if they were willing to offer help and answer questions. We wanted to make the event also appealing to new programmers, as well as non-programmers such as designers and people with product ideas. We partnered with OpenTech School to host a prep-school training session beforehand, with a presentation by SoundCloud's very own Duana Stanley. The result? A wide range of women with different backgrounds and experience levels working together.
And the Berlin Geekettes wanted to create a fun, healthy atmosphere, which is why we had a yoga teacher leading relaxation exercise classes and fresh organic meals (shout out to the amazing chefs!). Etsy joined the fun by providing a craft corner with instructions and materials for making plush birds. Many hackers took a break for a mental refresh, with stretching and stitching.
Lots of actually working demos!
We got the usual API mash-ups, such as HomeThingy which suggests apartments on ImmobilienScout24 based on your Etsy purchase history, Eye-MOO which sends your EyeEM photos to be printed as postcards, and Mood Swings which serves music from SoundCloud and images from Tumblr to suit your mood.
There were not one but three mash-ups using the SoundCloud and Readmill APIs, combining books and sounds in various ways: Soundmill (share highlights from your SoundCloud audiobooks!), BOOKBEAT (which also one the Best Student Project prize), and our staff pick GetUp-ReadUp (a noisy alarm clock that uses book trivia to make you feel alert).
More than one team built apps aimed at small children, including the overall winner: Monkey See, Monkey Do helps your toddler understand daily routines using simple pictures. The team included an illustrator who made adorable drawings of a monkey brushing its teeth, having a snack, and other toddler activities.
More, please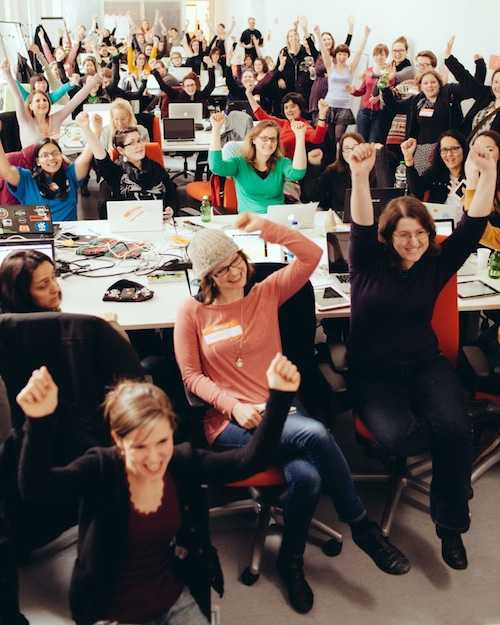 Dive in to the whole list of projects list of submitted projects on the hackathon's official wiki. We were blown away by the quality of the presentations from so many first-time hackathon-attendees!