This past weekend, hundreds of hackers showed up at the TokBox HQ with a mission to build the future of music. The event started with pitches — giving sponsors a chance to show off their APIs — followed by in-depth workshops where attendees could learn more about each platform and ask questions related to their project. Once the hacking time started, people quickly broke off into groups and got to work.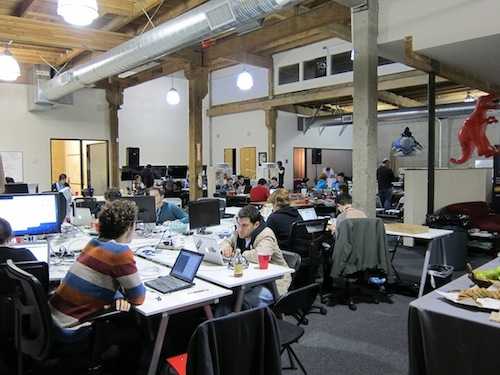 SoundCloud were well represented. Lee Martin, Johannes Wagener, Hannes Tydén and Justin Street built a hack that shows the future of concerts where a major ticket corporation has taken over the world and all concerts must be attended virtually. Check it out, it's really quite fun. Also, Tim Bormans got SoundCloud working with Sonos. Check out his demo video.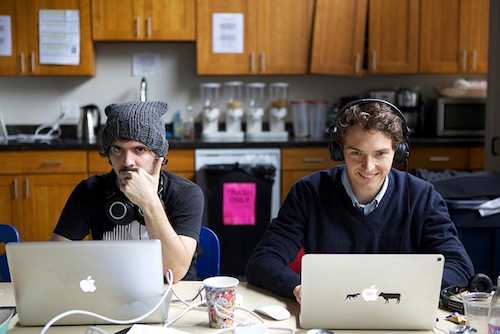 Lee and Johannes hacking away. Photo taken by Scott Schiller.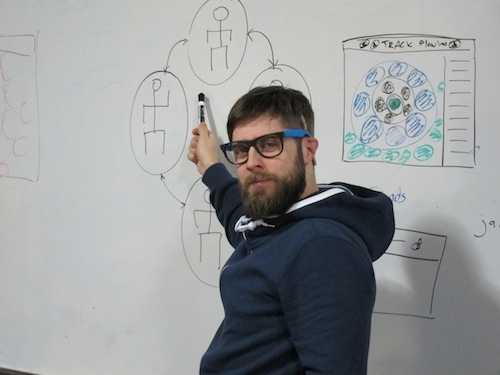 Hannes demonstrates the very scientific sprite transition process.
Hacking went on through the night, with many attendees going non-stop without sleep, wrapping up with demos at 3pm on Sunday. In total, more than 60 hacks were completed. Here are some of our favorites:
Cloud Player
Cloud Player, created by Aaron Leese, is an Ableton Live plugin that lets you drag and drop sounds from all over the web (including SoundCloud) into your Digital Audio Workstation. It was great to see someone bridging the gap between web platforms and audio production software. We picked Aaron's hack as our favorite, so we'll be flying him out to the next North American Music Hack Day.
Drag a loop from SoundCloud into Ableton
Buddhafy
Buddhafy was one of the more out there hacks. Oscar Celma and Ching-Wei Chen hooked a NeuroSky MindWave controller up to Spotify, allowing you to control playlists with your mind. The users mental state would determine what songs would be played. Yes. Seriously. Sounds like something out of a sci-fi movie, right?
whsprs.co
whsprs.co lets you play a game of telephone using SoundCloud. It was built by Ian Butterworth who was actually our pick for winner of the last music hack day, so we weren't that surprised that he built something awesome again. Users connect with their SoundCloud account, and using the Javascript SDK can record a 'whisper'. Other users can look for a whisper recorded by someone nearby and repeat it, and so on and so on. You can check on the status of a whisper and see how far around the globe it's gotten. Kudos to Ian for finding an interesting new way to use sound on the web.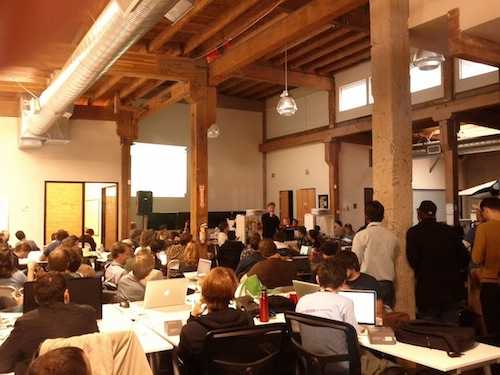 Ian demoing whsprs.co
SoundCloud Wordpress Plugin
Richard Cáceres took on the task of integrating SoundCloud with WordPress. The plugin allows WordPress users to connect their blog to their SoundCloud account, then choose from a list of tracks to embed in a blog post. This is an incredibly useful plugin. The source code is already up on Github.
It was great to see all of the hacks people worked on. Thanks to The Echo Nest, TokBox and Rdio for organizing a great event and thanks to everyone who participated. It was a lot of fun.